Blogging To End Elder Abuse!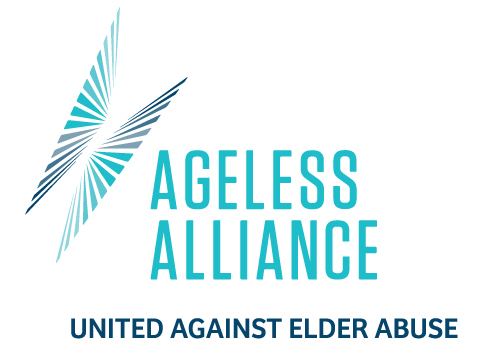 Betrayed. Frustrated. Angry. Depressed. Powerless. Alone.
Many elders use words like these to describe how they feel after having been abused or neglected.  Many family members, after learning of the abuse or neglect of an elderly loved one, also feel this way. Invariably, those that have been impacted by abuse want to do something to help ensure that what happened to them will not happen to someone else.  People from all backgrounds across the country have joined Ageless Alliance:  junior high school kids, hair dressers, college students, attorneys, caregivers, retirees – all seeking ways to get involved and make a difference in their community.   Ageless Alliance was created to empower people to make their voice heard and to take action to eliminate elder abuse in America.
Ageless Alliance provides ideas, opportunities and resources that allow members to take action locally.  Check out our "Get Involved" page which provides many ideas for involvement. Our "Action Kit" has a variety of resources that can be used in local efforts and that will continue to grow over time.  Friend us on Facebook and follow us on Twitter.  And, now… we're blogging!
Blogging provides us with a new way to interact with all of you, bring you expert advice, and hear from you.  And, words are important!  They inspire, educate, and empower and help move the Ageless Alliance mission forward. 
Through the blog, we plan to post regularly on a variety of topics:
advice from our experts
sage wisdom from guest bloggers on how to stay safe from abuse
profiles of our members and their actions
great examples of elder abuse prevention programs
articles on fighting ageism
articles on positive aging
Have questions and ideas for blog posts?  Let us know by commenting on this post or by sending us an email at agelessalliance@gmail.com.
Let's keep working together to replace the frustration, anger, isolation and powerlessness felt by those victimized by abuse with positive impact, unity and empowerment!
Next week's post:  The Grandparent Scam: It Happens to the Best of Us