Our CEO, Dr. Kerry Burnight, named "Most Influential" in the OC Register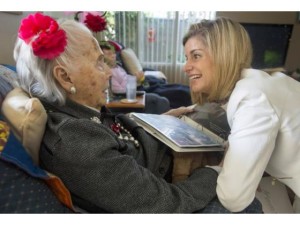 "If Kerry Parker Burnight had her way, every aging adult would spend their last years wrapped in the kind of love and support that sustains 110-year-old Selma "Sally" Mitchell at Irvine Cottages.
"It's so nice to come where people really are receiving good care," says Burnight, a UC Irvine professor of geriatric medicine and gerontology, during a social visit to the six-bed assisted living home where Mitchell has spent the past two years.
As founding director of the Elder Abuse Forensic Center in Orange County, Burnight usually sees the opposite. This year, the forensic center investigated its 1,000th case of elder abuse, the most of any such organization in the country.
Burnight works fiercely to protect vulnerable older adults, who don't have families and caretakers, like Sally Mitchell does, working in their best interest." Read More.
Special Thanks To
Ageless Alliance, Inc. is a registered U.S. 501(c)(3) tax exempt nonprofit (EIN/Tax ID: 47-2269055). Our charity is partially funded by the National  Center on Elder Abuse (NCEA), a federally funded grant from the U.S. Department of Health and Human Services, Administration for Community Living (ACL). Ageless Alliance is a proud partner of the nation's first Elder Abuse Forensic Center (EAFC) housed in Orange County, California.