Point – Shoot – Make a Difference! Make a Simple Video to Raise Awareness of Elder Abuse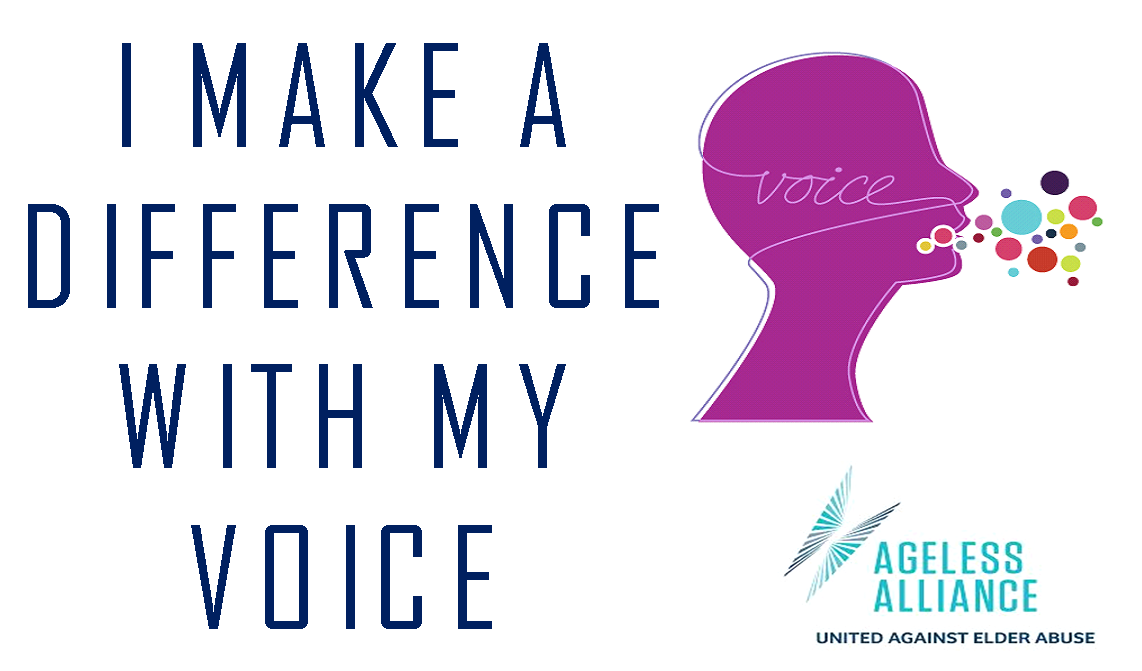 It's amazing what we can accomplish with technology today. To make a video in the past used to be fairly painful but now can be done in minutes. What's really cool is that we can use this to our advantage to raise awareness of elder abuse.
Point – Shoot – Make a Difference.
Ageless Alliance has launched a "Make a Difference" video campaign as part of World Elder Abuse Awareness Day June 2013. Our theme this year is "Make a Difference with your heart, hands, voice and mind". We're inviting people of all ages to join Ageless Alliance (it's free) and to film a simple video of themselves saying how they make a difference with their heart, hands, voice or mind for vulnerable adults and elder abuse prevention.
We've created simple instructions with a brief script and signs you can hold while you shoot your video.  For a sample video click (here).  To download the instructions click (here). It's easy to use your phone, tablet, or camera to record it and then email it to us at agelessalliance@gmail.com. Shouldn't take more than 10 minutes. If you can't shoot a video, take a picture of yourself holding a sign we provide in the instruction set. We'll then post them so the world can see how many Ageless Alliance members are making a difference. Please send to us before June 15, 2013.
Let's show the world how much we all care about making a difference for vulnerable adults. Every video submitted inspires and unites us all. It raises awareness and puts a human face on this important issue.
Point – Shoot – Make a Difference!
Let's wrap it up with a great quote from Robert F. Kennedy:
""Few will have the greatness to bend history itself, but each of us can work to change a small portion of events. It is from numberless diverse acts of courage and belief that human history is shaped. Each time a person stands up for an ideal, or acts to improve the lot of others, or strikes out against injustice, they send forth a tiny ripple of hope, and crossing each other from a million different centers of energy and daring those ripples build a current which can sweep down the mightiest walls of oppression and resistance."
Special Thanks To
Ageless Alliance, Inc. is a registered U.S. 501(c)(3) tax exempt nonprofit (EIN/Tax ID: 47-2269055). Our charity is partially funded by the National  Center on Elder Abuse (NCEA), a federally funded grant from the U.S. Department of Health and Human Services, Administration for Community Living (ACL). Ageless Alliance is a proud partner of the nation's first Elder Abuse Forensic Center (EAFC) housed in Orange County, California.